---
02

Oct 2018
SPAIN INCREASES ITS BIOFUEL CONSUMPTION BY 15% ACCORDING TO THE ANNUAL BAROMETER OF EurObserv'ER
According to the new biofuels barometer, published by EurObserv'ER, Spain increased in 15% its consumption in biofuels during 2017. Most of this growth is due to an increase in the use of biodiesel of 17.1%; meanwhile the consumption of bioethanol grew by only 3%.
This increase in the consumption is attributed to the mandatory rate on the energy content that distributors have to incorporate their fuels (4.3% in 2016 and 5% in 2017). For 2018, 2019 and 2020, the Royal Decree 1085/2015 stablishes mandatory targets for sales or consumption of biofuels of 6%, 7% and 8.5%, respectively.
Regarding to the European panorama, the consumption of biofuels raised by 9.2%. France is the country with the highest growth in all member states (20.8%), followed by the Spanish case. The consumption of biofuels in Germany the most stable in Europe during the last three years.
The key data related to this sector between 2016 and 2017, according to the estimates of the EurObserv'ER consortium, are:
Total biofuels consumption in 2017: 15.5 Mtoe (14.2 Mtoe in 2016)
Consumption certified as sustainable in 2017: 99.7% (92.2% in 2016)
Biodiesel consumption in the EU in 2017: 12.5 Mtoe (11.3 Mtoe in 2016) / 80.7% of the total biofuel consumption
Bioethanol consumption in the EU in 2017: 2.8 Mtoe (2.6 Mtoe in 2016) / 18.4% of the total biofuel consumption
Biogas consumption in the EU in 2017: 0.9% of the total consumption of biofuels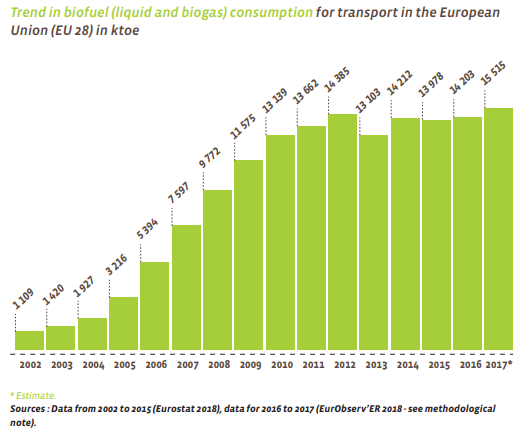 The barometer can be downloaded here.